Yen Japney founder of 'Curves Sculpting' – Revolutionises the Waist Trainer.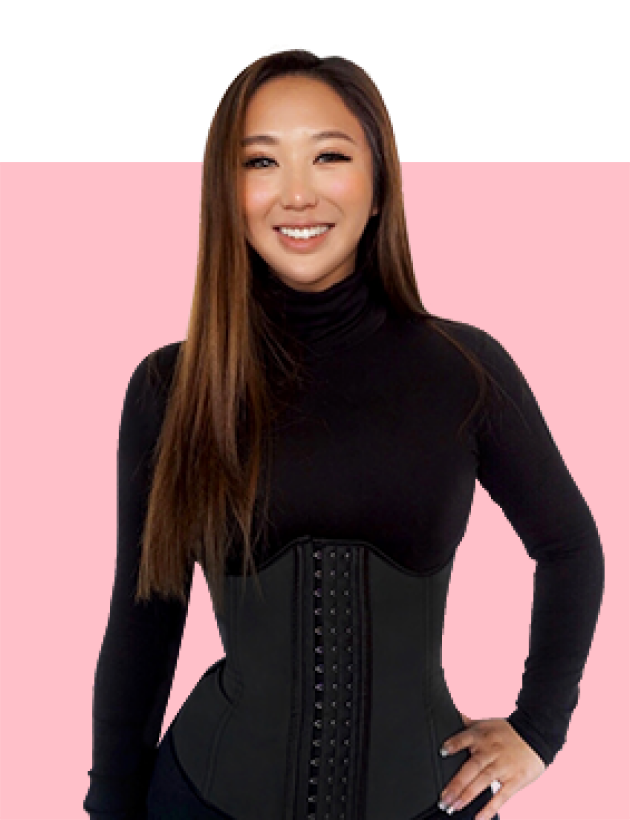 Founder - Yen Japney
Curves Sculpting has revolutionized the waist trainer with a design that molds perfectly to the body. Made from a super comfortable latex with a cotton lining, the waist trainer will flatten the stomach, while accentuating your waist, hips and bust.
Also breaking the internet with the new Butt-sculpting (butt-scrunch) leggings. That sculpts and accentuate your curves.
The brand focuses on high quality, discreet branding and comfort. Making it one of the most popular go-to apparels to wear.
Designer Yen Japney was raised by a single mother, who was very articulate in the way she looked and how a woman presented herself. Yen who is very close to her mother says, "she was the one who has inspired me to create and perfect the waist trainer."
Her mum(left) and yen japney(right)
VISION & MISSION
The goal and vision for Curve Sculpting moving forward is:
To continue to design unique pieces for you, that will mold and sculpt your body, that is also comfortable (that's important), fashion forward and modern.
You want to feel good, and look snatched!
No matter what you're wearing!
Stay tuned for what's to come …
Yen Japney CEO & Founder of Curve Sculpting, Started off with her first revolutionary design of the waist trainer. And have launched other designs since..


Interview with Yen Japney designer of Curves Sculpting.
Please tell us a little about how you've come to revolutionize the waist trainer.
"For me I've always had more of a square shape body type. My journey of waist training started in my early twenties. For a very long time I've worn waist trainers, most of them worked OK, but it never really molded to my body the way I wanted it to.
Being quite busty I found the waist trainers that were on the market made my boobs too pushed up, it looked and felt very uncomfortable. I also have a shorter torso, and the standard waist trainers were too long for my body and dug into my hips, making a very unflattering shape.
I've always been frustrated that none of the waist trainers on the market covered my stomach pouch, most of them tend to bring the waist in but leave you with a lower tummy pouch that's quite unflattering.
I remember trying on corsets before, I love the shape that it gives, and the way it's designed aesthetically, but damn it was unbearable to wear and painful to put on and off!
That's when the light bulb moment happened. I remember saying to myself. It shouldn't be like this, and from there I was determined to find a solution!
Our waist trainer has a curve under the bust, so it sits comfortably under your bust without pushing it up to the ceiling. It has a longer front to rid you of the tummy pouch, including nine strong steel bones, sculpting your curves perfectly."
Curves Sculpting - Waist Trainer
Please explain to us for those that don't already know what is a waist trainer?
"A waist trainer is a shaping garment used to target the abdomen specifically for the purpose of correcting the body shape, assisting in helping the posture, and achieving ultimately a more curvier body shape, and a "snatched" waist."
How long does it take to see results from using a waist trainer and are the results permanent or semi-permanent?
"If you follow a regimen and discipline yourself, a waist trainer can start showing results in as less than four weeks. We recommend 4 hours to start with and then gradually up to 8 hours per day.
Waist training works best incorporating exercise and a balanced diet. Waist training results are semi-permanent but with the consistency of use, waist training will have an effect on your overall body shape over time. As soon as you put it on you can visually see the difference."
Does waist training flatten out stomach area long term?
"Waist trainers use firm compression to flatten your stomach giving your figure a classic hourglass silhouette. This flattening happens immediately and continuously for as long as you wear the waist trainer. The size of your waist can reduce by several inches over time. But consistency is key!"
Does using a waist trainer result in making our bottom area look bigger?
"Curves Sculpting waist trainer can create the appearance of rounder, more luscious hips by compressing your midsection, which creates an hourglass-shaped silhouette, and this essentially does make your bottom appear slightly bigger since the waist area is reduced."
How does the Curve Sculpting Waist Trainer differ to others on the market?
"The standard waist trainer is just a straight strap all around the body, making it uncomfortable to wear because there's no curve to it, and the bones on them aren't as structured or strong.
The Curves Sculpting waist trainer is designed to have a curve under the bust, so it doesn't push your boobies up so high, and sits comfortably moulding to your body. Also, with 3 adjustable hooks, you can gradually tighten over time as the waist area begins to shrink."
In keeping up with the Kardashians who are huge fans of a Waist trainer, can we expect to see a similar hourglass shape from the Curve Sculpting Waist Trainer?
"Funny story prior to launching we wanted to wait and see if Kim Kardashian Skims' waist trainer has solved all the problems that we had been working on to resolve in our business. Fortunately for us, Skims waist trainer is like any ordinary waist trainer on the market. It's nothing special, giving us confidence that we really have revolutionised our waist trainer.
Our bloggers and customers comparing the two (Skims vs Curve Sculpting) said, ours were much better, @misszedd a YouTube blogger even mentioned in her video "Skims waist trainer are so thin, when I put it on, it creates uneven bulges, not giving a smooth curve."
Is a waist trainer the same as a corset?
"Generally, waist trainers and corsets are used for the same purpose of correcting the body shape and achieving fitness goals but there are differences between the two.
A waist trainer is a shaping garment used to target the abdomen specifically. It usually shaves an inch or two from your waistline while you are wearing it and is designed to provide a slimming effect underneath your clothes and help with posture. The Curves Sculpting waist trainer is also popular being worn as a fashion garment.
On the other hand, anyone who has ever worn a lace-up corset will tell you that at times it can be difficult to breathe. The corset compresses your bladder, your lungs, your kidneys, you name it – so you can imagine how uncomfortable it could be!
Waist trainers aren't so brutal; they're tight, of course, but they won't compress your insides in the same way as a corset. They can also be much more difficult to take on and off."
"The Curves Sculpting waist trainer will sculpt out your figure; ultimately clinching around the waist and giving you that 'S' curve, and a 'snatch waist.' It makes wearing a dress look just that little bit more flattering."
For further information and to purchase please see; https://www.curvesculpting.com/collections/all
Read it in Melbourne Style:
https://melbournemystyle.com/2020/08/31/yen-japney-founder-of-curves-sculpting-revolutionises-the-waist-trainer/
Editor in Chief – Melinda Sullivan